Mobile Notary Public
California Notary Signing Agents
Bilingual Spanish Interpreter Translator
Electronic documents
Loan signing agent
24/7
Service areas: Sonoma County, Marin County, Napa County, Solano County
National Notary Association
Certified Notary Signing Agent since 2003
US Mobile Notary Association
California Association of Notaries
Sergio Musetti, Notary Signing Agent


_




California Notary Signing Agents Network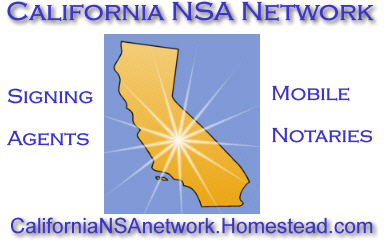 Find your Signing Agent Mobile Notary in California
by Zip CodeClick Here
Bookmark this link
We are a group of professional Mobile Notary Signing Agents that are dedicated to our business, and yours. When you contract a notary from our network you can rest assured that you are getting the best in the business, guaranteed. Don't waste your precious time searching for a notary only to end up with someone inexperienced, because of the luck of the draw. Let us lend you a professional hand; "Count on us to execute all of your signings with a precision born of nearly 50 years of combined experience".


Our California NSA Network members are selected by invitation only, and they must meet our stringent membership criteria. Membership cannot be bought! Our members are the most experienced, knowledgeable and skilled independent mobile closers from throughout the state of California, each providing direct services. We currently provide service in a growing number of counties in the state of California. We are working diligently on the statewide expansion of our network to enable us to provide service in every county in the state.


We are not a signing service!


CA NSA network members have the combined experience of thousands and thousands of mobile closings of all types.


Are committed to uphold the professional laws and ethics of the notary professional. And we guarantee our work 100%.


We have both full-time and part-time mobile closers ready to assist you 7-days a week. All members have E-doc capabilities, and same day and last minute appointments are accepted.


All members negotiate their own reasonable rates for their skilled signings.


The notary is often the only person your clients ever meet in person. Let the face they see, be the California NSA Network member that will handle your client and represent your company in the professional and confidential manner that you deserve.


We are Mobile Notary Signing Agents that will travel to meet with your clients; at their home, workplace or any other location of their choice. We are always available at the time that is most convenient for them


NOTARY SIGNING AGENT


A notary Signing Agent is a Notary Public who is hired as an independent contractor by a "closing agent" to ensure that real estate loan documents are properly executed by the borrower, notarized, and returned for processing. The Notary Signing Agent is a commissioned Notary Public who will notarize all documents requiring it in a typical loan package. Since state law and lenders often require certain forms to be notarized, a valid Notary commission is essential for persons performing loan document signings. The definition further indicates that a Notary Signing Agent is "hired as an independent contractor by a closing agent". A Notary Signing Agent is not an employee of the lender or title company but is in business independently. Typically, the Notary Signing Agent contracts with the lender or with a title or escrow company in the transaction to perform the signing.


Refinance
Purchase
Piggy-Backs (1st and 2nd)
Home Equity Loans
Line of Credit (HELOCS)
Investment/Vacation Property Loans
Reverse Mortgage (Some Agents)


California Counties covered:


Alameda, Amador, Butte, Contra Costa, El Dorado, Fresno, Glenn, Kern, Kings, Lasse, Los Angeles, Marin, Modoc, Monterey, Napa, Orange, Placer, Plumas, Riverside, Sacramento, San Diego, San Luis Obispo, Santa Barbara, Santa Clara, Shasta, Siskyou, Sonoma, Solano, Tehama, Trinity, Tulure
 <b><a href="http://californiansanetwork.homestead.com">California Signing Agents Network</a><br><br>

 Find your Signing Agent Mobile Notary in California by <a href="http://californiansanetwork.homestead.com">Zip Code</a></b><br>
Brenda M. Miranda Oakley, CA
Contra Costa County (excludes west county)

Stacey M Estrada Santa Clara, CA
Santa Clara County (Excluding Gilroy and Palo Alto in the evenings)

Kimberly McKendell Long Beach, CA
Los Angeles (south), and Orange (north) Counties

Jan Kohake Visalia, CA
Fresno (parts), Kern (parts), Kings, and Tulare Counties


Sheila Meinecke San Jose, CA
Santa Clara County

Sergio Musetti Cotati, CA
Marin, Napa, Solano, and Sonoma Counties. California Signing Agents


Jeffery D. Scaggs Redding, CA
Butte, Glenn,Lassen, Modoc, Plumas, Shasta, Siskyou, Tehama, and Trinity Counties
Linda Spanski Oceanside, CA
San Diego County

<a href="http://www.yadams24-7notary.com>Yolanda Adams, San Lorenzo, CA
Alameda, and Contra Costa (west) Counties

<a href="Luci Sweet Atascadero, CA">Luci Sweet Atascadero, CA
Monterey (Southern), San Luis Obispo, and Santa Barbara (Northern) Counties

Patricia C Crooks Placerville, CA
Amador, El Dorado, Placer, and Sacramento Counties