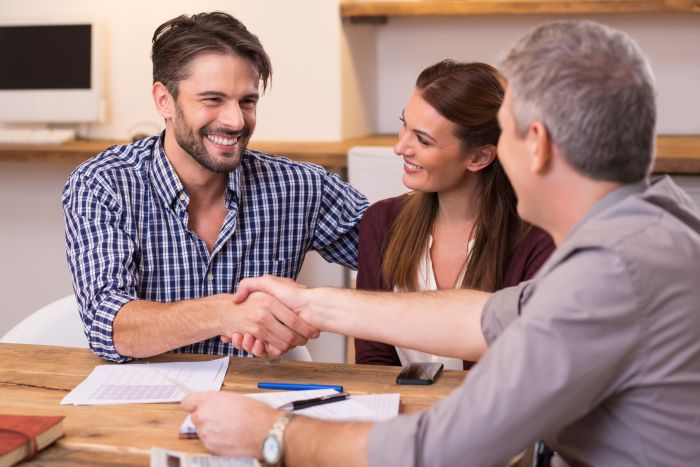 Congratulations! You're so close to buying your home. But before you pop open that champagne and make a toast, there are a few things you need to know before you get in too deep—(Did anyone say house closing costs?)
Knowing these six things will make the buying process much smoother and pleasant. And less like the horror stories you've heard.
Read on to find out what you need to know!
1. Plan for all of the house closing costs
Did you know there are more costs other than purchasing the house?
(Rest assured. They aren't as much as the house; more like 2%-7% of the home price.)
Still, it's important you plan for these so you're not surprised on the last day of escrow.
Here are the list of closing costs:
Escrow deposit

Credit report fee

Bank processing fee

Notary fee

(pay the notary for their time and services)

Flood certificate fee (and, if you are in a flood zone, you will need to pay for flood insurance)

First year of insurance (otherwise prepaid insurance)

Appraisal cost

Recording fee

Title insurance (one-time cost of up to 1% of the home price).
Know that you can negotiate some of these fees, especially the escrow deposit. And you may even be able to have the seller pay for some of the house closing costs if that's a part of the deal.
There are no longer any "rough estimates" allowed in lending, so the Loan Estimates you receive during the loan process should be very accurate. Study and understand them and ask questions.
2. Know the law
Check local and state laws to know if you're living in a pro-seller or pro-buyer area.
The pro-buyer laws state that the seller would need to come forth with any problems (i.e. water damage, mold, leaky faucet...), and confirm that the problem(s) has/have been fixed.
On the other hand, pro-seller laws declare that the responsibility is in the hands of the buyer. It is the buyer who needs to check, check again, and again to see if there are any problems. And that those are fixed.
If the buyer doesn't, and escrow closes and he or she owns the house, the buyer is now responsible for any damage found after. (However, in some cases, you may be able to sue.)
3. Hold off opening that new credit card
Have you been considering opening up a new credit card?
What about refinancing your car loan?
Are you considering changing jobs (and incomes)?
Two words of advice: hold off.
This pertains to anything financial.
Why?
Because the lenders may still be reviewing your financial payments—verifying your income, assets, credit history, loans, you name it.
Making any sudden financial changes could prolong escrow. Or, depending on the change, could cause you to lose the house.
Especially if you're self-employed, you need to be extra cautious. Since it's hard for self-employed individuals to prove their consistent income, you could be offered a less than traditional mortgage (resulting in a higher mortgage rate.)
4. Review, review, review
Review every document you need to sign. EVERYTHING! Especially your Loan Estimate and Closing Statement which lists the house closing costs, mortgage payment, and interest rate.
Once that house is yours, it's yours. No more negotiations.
5. Your mortgage payment is not set in stone
Your interest rate is subject to change if you do not fund your loan on or before your Lock Expiration Date.
Pay attention to your rate lock expiration date. Before locking your rate, your loan officer took into consideration your contractual date of closing. He or she should have allowed for delays, but this can cost you if you can't fund your loan within the lock period. The cost to re-lock a loan can be quite expensive, so make sure that it is not you who is causing any delay in the closing process.
6. Take advantage of the 24-hour walk-through
Usually, the buyers can take one more walk-thru twenty-four hours before the house is officially sold and is theirs.
This is the time to slowly and diligently go through every room, and double, triple check problem areas: loose floorboards, broken windows, rusty and leaking pipes, no mold, etc.
Know that should you see that one of the problem areas haven't been fixed, you can notify the seller and ask them to fix it. This could even start another round of negotiations since it's already so late into escrow.
Remember, this twenty four-hour walk-through serves two purposes: 1.) Last minute check to ensure those problem areas have been fixed (as we've mentioned) 2.) And last chance to back out.
Perhaps, you fell in love with the house when it had the staged furniture in it. According to a study, staged furniture makes it more likely for a buyer to imagine the house as his or her future home.
Since the sellers most likely aren't living in the house, it's bare. Perhaps now you realize how small the living room is. Or you realize you're not in love with the bedroom.
Remember, in real estate, buying a house is an emotional process just as much (if not more than) a practical one.
If, for whatever reason, you step through that door during the last walk thru and you're not feeling it anymore. Know that you can change your mind and back out. While an inconvenience to the seller, it's worth doing now than after the keys are in your hands.
Bonus: Sell your old house
If you're not a first-time homebuyer, you should be in the process of selling your old house.
If you aren't, get a move on. Especially if you're expecting on using the profit that comes from the sale to pay for your house closing fees. Or even the new house itself.
Like we've said, surprises do happen...even in the eleventh hour.
The buyer could back out. Or because of the lack of buyers, you are forced to accept a low ball offer.
For more information, or if you need help in the closing process of your real estate transaction, contact us.